Welcome to Friends Meetings (Quakers) in the Atlantic Region
Atlantic Friends Half-Yearly Meeting (AHYM) was constituted in 2018 as a coordinating organization for Quaker Meetings and Worship Groups in Atlantic Canada. It also coordinates the Atlantic Friends Gathering.

AHYM is part of the national Canadian Quaker organization.
Find out more about Quakers here.
---
Halifax Monthly Meeting holds a meeting for worship every Sunday at the Ecology Action Centre in Halifax at 10:30 AM followed by a time of fellowship over coffee/tea. Contact
Worship Groups under the care of Halifax Monthly Meeting
Antigonish WG – Meetings only as scheduled. Contact
South Shore WG – Meets weekly at 11 AM in members homes. Contact
---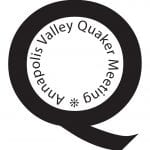 Annapolis Valley Monthly Meeting holds their meeting for worship in members' homes every Sunday at 10:30 AM except the first Sunday when they usually meet at 4 PM followed by a potluck supper. Check their web site calendar for details. Contact
---
New Brunswick Monthly Meeting is comprised of five Worship Groups and two Allowed Meetings located across the provinces of New Brunswick, Prince Edward Island and Nova Scotia:
Under the care of NBMM
Prince Edward Island Allowed Meeting holds a weekly worship every Sunday at 11 AM in the Library at The Mount Continuing Care Community in Charlottetown, PEI. Contact
Eastern Shore Allowed Meeting – Meetings for Worship every second and fourth Sundays of the month at 2 PM in Dartmouth, NS. Contact
NBMM Monthly Meetings for Business are held the third Sunday of every month in Fredericton, NB. Worship at 11AM-12PM, Potluck Lunch, Business Meeting 1-3 PM email hidden; JavaScript is required
---
Newfoundland Worship Group meets every second Saturday at 4 PM at the St James United Church in Saint John's, NL. Contact
---
These three Monthly Meetings and the Worship Groups and Allowed Meetings under their care comprise the Atlantic Half-Yearly Meeting (AHYM). Atlantic Friends Gathering is a subgroup that comes together as a Gathering on the Victoria Day weekend every spring. A program is planned for spiritual nourishment for adults and young folks, usually at a camp where Friends can enjoy a natural setting, bring food to share, and strengthen the bonds of our faith fellowship. A fall meeting brings Friends together for business and sharing common concerns. Contact: email hidden; JavaScript is required