AFG 2020 was cancelled due to the COVID-19 situation.
We plan to use the theme and activities in 2021 at Camp Geddie.
Hope to see you there! Stay safe, be well, care for each other.
Camp Geddie: a Presbyterian Church camp near Merigomish, NS about 18 kms from exit 27 of Hwy 104.
Victoria Day Weekend, May 15 to 18, 2020 Friday Evening – Monday at Noon
Click here to register
See photos from 2003, 2004, 2005, 2006, 2007, 2008 2009, 2011, 2012, 2013, 2016, 2018, 2019 AFG's
Cost | Meals | Children | Accommodations | Program | Recreation | What to Bring | Directions | Registration | Contact

Atlantic Friends Gathering is an annual event linking members and attenders of the Religious Society of Friends (Quakers) from across Atlantic Canada.
2020 Theme: Food: Security, Sufficiency, Spirit
We gather at Camp Geddie on Nova Scotia's North Shore. Camp Geddie is owned and operated by The Presbyterian Church in Canada and is accredited by the Camping Association of Nova Scotia. See the Camp's website at http://www.campgeddie.ca. Please note: Camp Geddie does not permit pets on any part of the premises.
The spacious grounds, with nature trails and a spectacular beach on the Northumberland Strait (adjacent to a piping plover protected area), provide a natural setting for a weekend of spiritual nurture and for strengthening the bonds of fellowship in our faith community.
As with previous AFGs, there are no compulsory activities. The healing atmosphere of being in a welcome nature retreat offers an opportunity to open ourselves up to whatever we feel leads us, and to make this a weekend of renewal of our individual and our group spirit. This is a weekend for fun and enjoyment for individuals of all ages.
AFG 2020 Planning Committee
Jocelyne Tranquilla (Clerk), Daphne Davey, Helen Lofgren, Mary Petrie
NEW THIS YEAR!
* Registration deadlines (see under REGISTRATION)
* Lyme Disease tick alert (see under RECREATION)
---
A Weekend of Enjoyment and Spiritual Renewal for All Ages! Enquirers are Welcome to Attend!
We hope to welcome members and attenders from our Atlantic Friends Monthly Meetings, Allowed Meetings, and Worship Groups, as well as guests. We have arranged a full program, including six guest presenters (see under PROGRAM) and a panel, a time slot for Special Interest Groups (SIGs), a Youth Program, and more. Atlantic Half-Yearly Meeting for Business will also be held. The programmed sessions are interspersed with meal breaks, stretch breaks, and longer periods of free time. Enjoy sessions at your own choice, as well as your own communing with Friends and nature.

On Saturday evening, we hold "Meeting for Readings," when Friends can share passages of writing that have inspired them. On Sunday evening, we feature "Family Night," a cheerful talent show of music and other performing gifts by young and old.

Please feel free to enjoy the weekend in your own way!
---
PROGRAM
Presenters
Maurice Burgoyne, South Melville, PEI. "Regenerative Agriculture" farmer in the making.
Brenda Leenders, Truro, NS. Regional representative, Canadian Foodgrains Bank / founder, community gardens in Truro.
Matthew Legge, Toronto, ON.  Peace Program Coordinator, Canadian Friends Service Committee (CFSC).
Ralph Martin, Guelph, Ontario. Founder, Organic Institute of Canada at Truro Agricultural College, NS.
Lil MacPherson, Halifax, NS. Co-owner, award-winning Wooden Monkey Restaurant in Halifax and Dartmouth.
Lucy Sharratt, Halifax, NS. Coordinator, Canadian Biotechnology Action Network (CBAN).
Special Interest Groups (SIGs)
A 45-minute time-slot is available on Sunday morning for SIGs. Friends wishing to take advantage of this time to present information or carry out an activity on their "pet subject" should include details in the Comments box of the registration form. Note that the SIGs will run concurrently. Spaces for SIGs will be negotiated at AFG.
Display tables
Some tables will be available for Friends to set up displays. Please indicate your interest in the Comments box of the registration form. Note that room space is limited, so please be prepared to squish into half a table if necessary. Tables will be assigned on site.
Other highlights
---
Youth Program
Youth Coordinator: Nancy Turniawan
Assistant Youth Coordinator: Robin Neustaeter
The Youth Program will have something for children of all ages, offering fun, age-appropriate activities that will include learning about Quakers. Parents, let us know your children's ages and the choices of activities they might like, so that we can plan for them. Possible activities: Nature walks, crafts, outdoor games, drama – and much more. Would you like to be added to the list of volunteers, especially for younger children? We welcome your assistance for an hour or two during the weekend with the Youth Program. Please indicate your willingness to volunteer in the Comment section of the registration form.

---
REGISTRATION 
Let us know as soon as possible if you are coming! This is particularly important if you are bringing children as we need to know what ages to plan for and what materials to prepare. Click here to register online. Please use this registration form so we have everyone's needs recorded properly. If you cannot use the form, you can phone, mail or email the Registrar, including all the information required on the online form
Registration deadlines
Early-bird: Friday April 17
Regular: Friday May 1
IMPORTANT!
Children under 18 years who are attending without a parent or guardian must come with an adult sponsor and bring the signed consent form. (Click link to download.)
Friends who register after May 1 and who want overnight accommodation in the Main Lodge will be placed on a waiting list in case of a cancellation, or can optionally be assigned to a cabin.
Friends planning to attend for the day(s) only, with no overnight requirements, should still register. The Registrar, Food Coordinator, and possibly Youth Coordinator need to know!
REGISTRAR: Daphne Davey, PO Box 36, Crapaud, PEI, C0A 1J0, 902-730-2052 or email hidden; JavaScript is required
---
FEES
Full weekend (2 or 3 nights, program costs, all meals)
Early-bird: $108 Adults.
Regular: $120 Adults.
Per night (two meals, program costs)
$40 Adults. (Age 20+)
Day only (two meals, program costs, no overnight) 
$20 per day
Youth (full or part weekend, program costs, all meals)
$20 per night (age 10 to 19) = $60 for the full weekend.
No charge!
Children 9 or under.
Registration fees may be paid in advance or on site at AFG. Cheques payable to Atlantic Half-Yearly Meeting. Advance payments should be mailed to the Registrar (address above). Cash payments in exact change will be appreciated.
Financial Aid: If you need financial assistance for travel expenses or registration fees, your Monthly Meeting may be able to help out. Contact them early so there is enough time to process your request. Or there may be a volunteer work task that would warrant a scholarship from the AFG funds. Contact: Ellen Helmuth, Clerk, Atlantic Half-Yearly Meeting, at email hidden; JavaScript is required.
If you wish to pay in advance, send a cheque made out to Atlantic Half Yearly Meeting to the Registrar, Daphne Davey, PO Box 36, Crapaud, PE C0A 1J0
You can also pay when you arrive at Camp Geddie.
Anyone under 18 who is attending without a parent or guardian must come with an adult sponsor and bring the signed consent form.
---
TRANSPORTATION
If you need assistance, please give details on your registration form, or as soon as possible after registration:
* Airport pickup: date/flight number/arrival time
* Car pooling: pickup location
Driving time from Moncton to Camp Geddie is approx. three and a half hours, including a comfort break (260 km).
Driving time from Halifax to Camp Geddie is approx. three hours, including a comfort break (190 km).
---



MEALS (MEALS ARE POTLUCK)
Friends are encouraged to bring any of
– pre-cooked casseroles which only need heating
– cooked side dishes
– breads, rolls
– sandwich makings
– cereals
– butter, nut butters
– yoghurt
– salads
– desserts
We will need hot meals from Saturday morning breakfast through Sunday evening supper. Staples such as teas, coffees, milk and orange juice will be provided by the organizers.
Please note: We will endeavour as much as possible – and ask you also – to provide local, sustainably sourced, fair trade organic produce and products.
The Food Coordinator will have cards available for Friends to fill out, naming their food contribution, whether containing meat or meatless, and if gluten-free. If you have serious dietary concerns, please arrange to bring your own needed materials. The kitchen, storage, refrigeration, and clean-up areas at Camp Geddie are spacious.
The Food Coordinator will coordinate menus for breakfasts, lunches, and suppers. Friends are expected to volunteer for food preparation, dining room set-up and clean-up. Sign-up sheets will be posted.
---
ACCOMMODATIONS
MAIN BUILDING (Irwin Lodge) is a heated two-storey building. It has a big open fireplace and comfortable furniture, library, laundry, washroom, dining/meeting area, and kitchen on the ground floor. Bedrooms are on the second floor (no elevator) with separate shared bathrooms for men and women. There are no single bedrooms. Rooms range from two beds to four beds.
 A-FRAME (Margaret MacDougall Lodge) is a small, heated single-storey building. It has a kitchenette and bathroom and is wheelchair-accessible. This lodge is reserved for Friends whose health needs preclude them using stairs.
CABINS are unheated with no electricity for "shiver and shake" Friends (bring your own flashlight). A separate washroom/hot shower building is nearby for cabin dwellers.
IMPORTANT!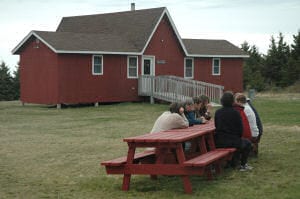 * Friends wishing to stay in the Main Lodge, which has no single bedrooms, must register with the expectation of sharing a bedroom. Alternatively, there are plenty of cabins available.
* Friends wishing to stay extra nights during AFG (additional to those they registered for in advance) may do so. However, they will have to move to a cabin if a bed cannot be found for them in the Main Lodge without inconveniencing other Friends.
BEDDING
In all types of accommodation, participants must provide their own sleeping bags, pillows, blankets, towels/wash cloths, and other personal needs. No linen is provided, but spare blankets are available.
---
RECREATION
Camp Geddie has a wide-open field, spectacular beach, a place for a campfire at night, and many hiking trails, with an amazing view of show-stopping sunsets. No pets are allowed on the site, so the field should be free of doggy-doo. This area is an ideal place to let off youthful steam flying kites, playing soccer, etc.
ALERT! LYME DISEASE
Friends, especially parents, should be aware that ticks found at Camp Geddie may be carriers of Lyme Disease. If anyone finds a tick on themselves or another person, they should report to a member of the AFG Planning Committee (listed at top). There is a safe way of removing ticks. Tick-collection kits will be available with the first-aid kit so that affected Friends can choose to send off the tick for identification. An information sheet about Lyme Disease and how to safely remove ticks will be posted in the Main Lodge. Refer also to
* Health Canada at https://www.canada.ca/en/public-health/services/diseases/lyme-disease.html
* Canadian Lyme Disease Foundation (CanLyme) at www.canlyme.com.

---
WHAT TO BRING
Sleeping stuff: Sleeping bag, blankets, pillow. Remember that while the rooms in the two lodges are heated, the cabins can get really cold at night, and you have to bring all of the items necessary to keep yourself warm. Mattresses only are provided in the lodges and cabins.
Let there be light! Bring a flashlight and spare batteries for walking between buildings in the dark, and for the cabins.
Toiletries: Soap, towels, shampoo, toothbrush, toothpaste, etc.
Scent-free items: Please do your utmost to make this a scent-free event. Avoid wearing or bringing scented products such as soaps, shampoos, lotions, creams or gels, as well as other personal-care products or perfumes. Use scent-free laundry soap and softeners.
Clothing: The Camp is located on the shore of the Northumberland Strait. During the daytime it can be quite warm, but the evenings are still brisk. Bring a range of clothing options, from T-shirts to mittens/sweaters, rubber boots and rainwear.
Smoking and alcohol (not!): The Camp is a Smoke-Free and Alcohol-Free zone.
Readings: Consider bringing a short reading (story, poem, inspired reading) that you enjoy or that reflects a deeply held belief or concern of yours. You will have an opportunity at "Meeting for Readings" for people to get together in worship-sharing about the readings and ideas that Friends bring.
Nature craft activities: Friends are invited to bring small natural items: shells, stones, moss, driftwood, etc. These can be left in a basket at the Registration Desk so they can be used by everyone.
Other items: Fly repellant (natural alternatives such as lemon eucalyptus or citronella are an option), sunscreen, musical instruments, canoes, kayaks, and swimsuits for the extremely brave. Also humour and your ability to have fun!
No Pets: Camp Geddie has an overall

No Pet Policy

. Do not bring any pets on site.
---

Registrar: Daphne email hidden; JavaScript is required 902-730-2052
---
Info last updated: 2020-03-09 9:28 PM ADT
---
Cost | Meals | Children | Accommodations | Program | Recreation | What to Bring | Directions | Registration | Contact