Annapolis Valley Quaker Meeting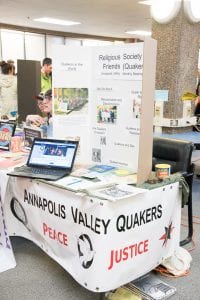 Annapolis Valley Quakers meet for worship every Sunday. Since Quakers' faith is one of first-hand experience of the Divine (which can have many names), we have no designated priests or ministers. During weekly Meeting for Worship, we wait in expectant silence. Ministry may come from anyone who is moved by the Spirit.
Our spiritual life does not depend on doctrines, the observance of rites, sacraments or obedience to authority. For Quakers, God is present in us at all times, and divine revelation is continuous and infinite. Quakerism is a living faith, made real in the hearts of all people through the inward light of the Sacred.
Where and When?
We meet at 3pm at the St. John's Anglican Church (back entrance) in Wolfville each Sunday afternoon,  Remote attendance is also available by Zoom. Subscribe to our calendar or Facebook page, or email for Zoom link and more information.
Who Can Attend?
All are welcome to join us for worship. If you plan to attend in person please contact us in advance, as COVID number restrictions are in place. You don't need to dress in any particular way (people have attended wearing everything from suits to sweats).
For more information, click here.