Atlantic Friends Gathering 17-20 May 2019 at Camp Geddie, near Merigomish NS.

Clerk Ellen Helmuth opened by reminding us of the Mi'kmaq placename Merigomish and the thousands of years in which our aboriginal allies lived and preserved this land and water. Sadly there are still some settlers who, for their personal monetary and political interests, argue that natives are "conquered". Friends will be helping the women Water Defenders who are about to walk from NS to Maine
It is impossible to thank everybody who made AFG possible, but here are a few: Dick Cotterill and the planning committee, Nathalie Brunet for organizing food, Keith Helmuth for book displays, Maria Anthony for crafts, Vince Zelazny and his wonderful teens from Fredericton in the children's program. And so many others, along with volunteer cleaners and kitchen help (all of us).
Highlights of the weekend
photo: Human Ecology envisioning with Cam Fraser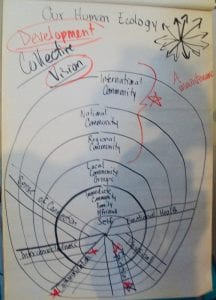 Ecology: Roger Davies and Keith Helmuth led us in a review of our long history of ecological commitment, and sharing our favorite readings. The Ecology Action Center in NS, founded by Friends, initiated practices and political actions for ecojustice that have spread across all four Atlantic provinces. Joanna Bull and Robin Tress of EAC, and organic farmer Judy Loos brought us recent news. We heard of local Meetings' initiatives like "Kiss A Fish" in PEI, ,GASP (Group Against Spraying the Peninsula) in NB, sustainable gardening and woodlots, simple living, recycling and reuse, supporting native rights, Food Actions, revising school curricula, taking children on nature walks; national-wide, Kairos, ROJEP, people's food policy, LEAP manifesto and Green New Deal; internationally, the 2012 Quaker World Conference's Kabarak Call and subsequent follow-up.
Justice: Verena Tan of Canadian Friends Service Committee, who convened a recent conference on children of incarcerated parents (disproportionately aboriginal, sad to say), brought us this concern and recent publications, including Matthew Legge's new peacemaking activity book, Are We Done Fighting? Building Understanding in a World of Hate and Division.
Revitalizing: Cam Fraser, Canadian Yearly Meeting secretary, came with his whole family. He led us in Meeting for healing, and a Human Ecology assessment that connected the personal and spiritual to networks/needs at every level, including why we should support CYM.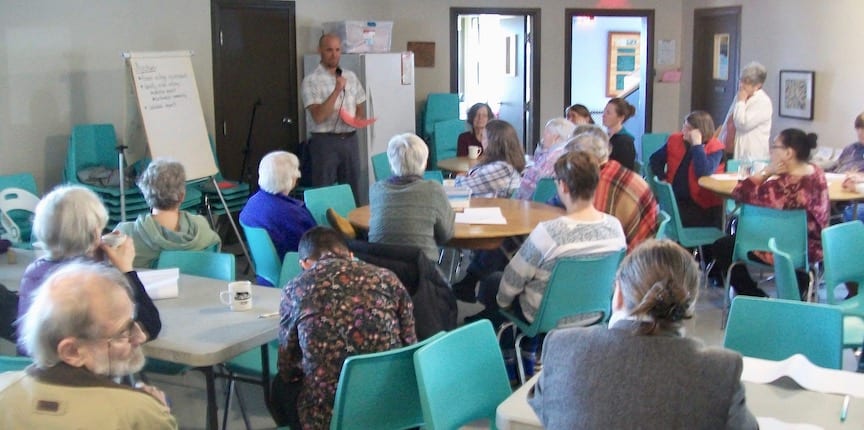 One of his stories: by paying attention to 5 year olds who are newly conscious of self, in activities that reaffirmed and valued selfhood — six months later, teachers reported, they had spontaneously jumped to the next level, recognizing selfhood and value in each other. One of Lucy's stories: a Kenyan woman heard youths planning a genocide, defused by inviting them to her house for a communal meal and peace talk.
Everyone is WOLR (worthy of love and respect): the central principle of compassionate nutritionist Lucy Aphromor from Church Stretton meeting, in England, who explained how we can free ourselves from fat-phobia, blaming and labelling. Nutrition as a spiritual journey.
Family Night: included puppets singing "This Little Light", card tricks and arithmetricks, music by little kids and Raging Grannies (in home-made hats), and Lucy's passionate poems. Two of hers follow; the first was accompanied by Joel Miller's improv on saxophone.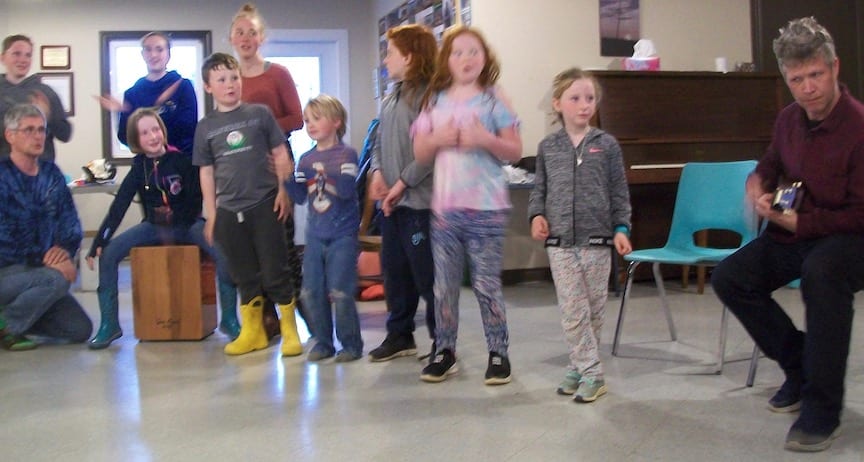 1.
To the people to whom this land belongs, who belong to this land.
Praise be, and deep apology.
Praise be for the energy gathered here flowing in torrents, eddies, currents within and between and beyond us to the spirals of life. Only connect, praise be.
Hello Mary in tartan I'm sorry that we barely spoken yet.
Jane, the same, although that's part connected since I started writing.
For ministries the beat and thrum and music, ham on the bone, whole-grain muffins, coffee's aroma and slightly strange black currantish berries
that duped me with their cuckoo-nested "roasted cashew" label
for Bruce's gluten free pancakes that outlandishly sizzled in the grizzled morning with a smell redolent of homesteads, prairies, breakfast plenty, seasonal contingencies, hearth and stove
Whatever gods we worship thank you for the now of love's common language, addresses, tastebuds
Nathalie's stewardship of food and need and being a whig, citizen science scholarship — wow! — Holy Group, got all that.
Praise be.
For burrs on seats, a long lead microphone, for wobbly eyes and glues and palm-smooth stones,
and oh! The appetite for acronyms, the ginger snaps, a fridge as big as a fishers hut, and home-made hats.
For edgy haircuts, four bills and slatted lines and baking sheets and the glorious relief of an empty washroom when you need a tinkle, wrinkles facing a head wind stood on the singles.
Shalom. Rave on. Praise be.
Let's keep faith with everyone who's wearing red with Daphne, the annual statistician. And
Eleanor, Joseph, Aia, Piper, Liv, Nadia, Tabiha, Kai, Julie, Joanna, Ian, Bryn. [the kids]
daily programmes, potluck, words like hodgepodge and sign-up rotas.
For obstacles, separation, fusion, distance, center, the Guide within.
And the list, my friends, the list, felt-tip pens as centerpieces, turning down the lights for more waiting, finding, minding, silence, epilogue and worship-sharing.
The wisdom of the Bee Hunter and the Guatemalan rug maker, Helen's panoramic hangings, three varieties of melons.
You got it. Rave on. Praise be.
And then there's Joel, who said let's improvise with poetry and the saxophone tonight will risk three minutes, see how it goes, all right?
well friends maybe you'll weave the telling of this song spinning from his question, through your archived folklore and set some store by the parable of golden needles, edelweiss and haystacks,
a mattering of stones, Morish stones, stories spinning forth
brought to you in
shovelfuls of blessings via smatterings of motorhomes, an A-frame, tents
and mosquito meshes on the air vents in the bedrooms
also via the travel plans of Carol Bradley
and the fancy dance of some considerable logistics bringing in encircled kin from Vermont, Victoria and Maine
also St. John and Montréal by train and not to mention
via a tortured oxymoron
yet again
Church Stretton bordering Wales in Little England, [Lucy's home]
Friends:
we are called to move our days expansively as peace.
Shalom. Rave on. Praise be.
AFG. Shalom. Rave on.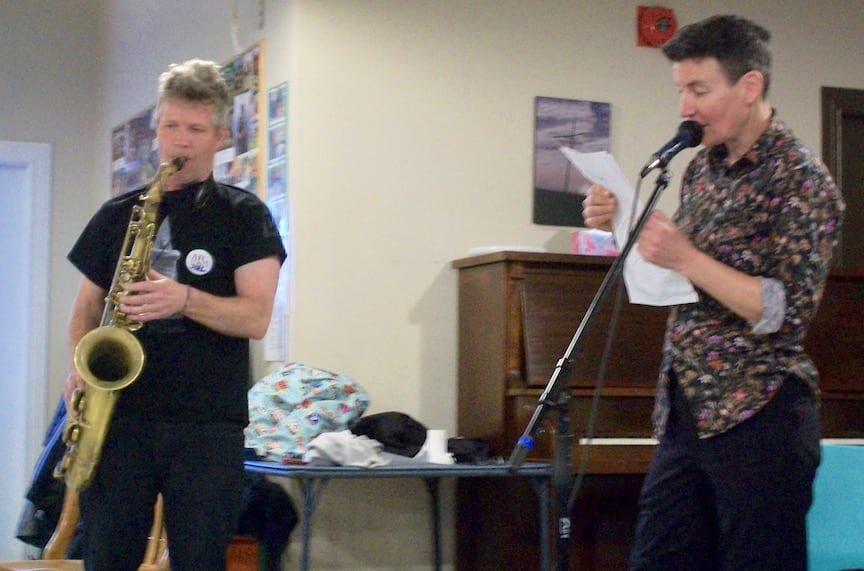 ---
2.
Great Spirit of grass blades, basketball, personnel committees, grace, welcome and praise be.
Great Spirit of the collective silver sunset, the nugget shared 'bout kissing fishes,
we offer our polished appreciation for driftwood and the fact that Jocelyne pointed out the beaver's teethmarks newly to me, for the gift of caring, detail, conversation, praise be
to ocean's foaming, sand angels, pebbles whittled through with whistle holes,
a plenitude of heart-shaped stones, the things we scribble-scrabble on the iPhone,
fat bladder rack and kelp and scalloped fronds of God knows what other seaweeds, also
let us reflect on the men who arrived got back intact because of brilliant fluorescent polystyrene,
beacons
and for what we navigate with grounding hugs as anchor when we feel washed up.
Amen to the children's cursive missives beach-inked with sticks
and blimey hallelujah for the thought behind the Cosmic Walk
y'all praise be, AFG, praise be.
Great Spirit of waves ridden and made, of ripples and tears, brine and genormous sticky-lidded pickle-jars from the kitchen, seeking different biceps,
for calcium channels and the miracle of muscle,
let's hear it said for the action potential behind the fat yellow-handled pull-up wellies, jumping, salt air, instructional times and perimeters crossed in disobedient protest
for Quakers muddling through to strategy, letters, by crafting timeless calendar boxes, for the picturesque ensemble of kettles and diverse kinds of tea, for the electrifying comforts,
Praise Be, oh yes, Praise Be.
---